The holidays are traditionally associated with happiness, fun times with loved ones and building on relationships. Unfortunately, the holidays bring more than good tidings for many people. Holiday expenses can cause extreme stress, and family members may not be capable of joining in the festivities.
The mental health of millions may be at stake during this time of year. However, you can help those you serve endure by understanding the prevalence of mental health problems during this time of year, their causes and key ways to manage them.
What Types of Mental Health Problems Are Prevalent During the Holidays?
Mental health problems throughout the holidays can range widely, explains the Mayo Clinic. Some of these problems may include the following:
Anxiety
Depression
Isolation-like behaviors
Mood swings
Substance abuse
Depression and anxiety tend to be more prevalent than other mental health problems. In other words, depression and anxiety may become evident because of the stresses encountered during the holiday season. According to the National Alliance on Mental Illness (NAMI), up to 64 percent of people may experience "feelings of loneliness, sadness, fatigue, tension and a sense of loss" throughout the holidays.
For example, holiday baking, shopping, traveling and responsibilities can lead to a lack of sleep or failure to meet such responsibilities. As a result, a person becomes "stressed-out," and the cycle becomes self-propagating.  The key to stopping this trend begins with an understanding of what causes these feelings to develop.
Causes of Poor Mental Health Around the Holidays
What is common to holiday events? The answer to this question probably involves excess food items and spending time with loved ones. So, how is someone who does not have any food or loved ones around supposed to enjoy the season?
This is social isolation. As explained by Healthline, people experiencing social isolation may feel their social circles cannot possibly compare to the festivities enjoyed by others. Furthermore, social isolation may lead to subsequent feelings of worthlessness or sadness, causing holiday-related mental health disorders to grow worse.
People in this group may make poor decisions that result in future problems, such as binge drinking to cope. Meanwhile, people who do have food or family may be tempted by sweet delicacies and a bottomless pit of empty calories. These factors can dramatically exacerbate stress as well.
Another factor impacting behavior throughout the holiday season is literally something no one can control — sunlight. Sunlight levels decrease during the winter months in the northern hemisphere, and this may lead to the development of Seasonal Affective Disorder (SAD). Spending more time in sunlight can improve these symptoms. However, light therapy may not be available, so employees may need to take a larger role in helping those you serve stay mentally strong.
Things Managers Need to Do in Preparation for the Holidays
The first step toward helping people suffering with mental health troubles is to make sure employees can handle the physical stresses of the holidays. This includes taking the following actions:
Be proactive against increased physical health problems. Winter can be harsh, creating the perfect, enclosed environment for the spread of illness. Employees should ensure all vaccinations, especially flu and pneumonia vaccines, are current for all appropriate employees. If employees refuse to receive the flu vaccine, regardless of personal or religious objections, they should be required to wear a mask at all times when working with those you serve.
Scheduling issues will occur. Employees may request days off or need to take a day to care for sick family members. All staff members should try to submit any known requests for time off before Thanksgiving.
Weather problems will delay or strand employees. Depending on your location, you may not have to worry about winter weather. However, you should prepare for the worst scenario. If it snows in your area, staff members may be incapable of reaching your facility. As a result, it is essential that you expand your essential staff options, such as direct support professionals (DSPs), throughout the holidays. This will give you a wider pool of people to reach if a weather-related event inhibits travel to your facility.
Key Tips to Staying Mentally Strong
Preparation is great, but actions are required to stay mentally strong. Furthermore, you will need to teach staff members how to manage the holiday stress, so they can help individuals with addictions overcome their holiday struggles. Rather than simply sending out an email, consider making holiday mental health training a requirement at the start of the season. In fact, some of the best tips for managing the holiday blues include the following:
Volunteer. If spending time with family members or peers is out of the question, volunteering can help people with substance abuse disorder, staff members and others overcome social isolation.
Set and keep realistic expectations. There will be events to attend, places to go and people to see, but do not be afraid of declining some activities. Also, avoid overspending by deciding what you can and cannot afford to spend in making holiday wishes come true.
Spend time outdoors, if weather permits. As mentioned, more sunlight equals better mood. Connect with nature, but only spend short amounts of time outdoors during the cold.
Decorate. Decorating drives inspiration, and it can be an outlet for mental health symptoms. Decorating does not have to be expensive either. "Personally, my favorite holiday item has been and will continue to be making popcorn garland with a needle and thread to put up during the holidays. For color, add a bit of food coloring to vinegar in a spray bottle, and spray the popcorn lightly before threading."
"Experiment" with healthier versions of holiday recipes. Many of the best holiday sweets can be made healthier with a few subtle changes. Consider swapping sugar for Splenda in holiday baking.
Exercise. The body needs to stay healthy and active. Try to exercise during the season. This can be as simple as walking in place while cooking or "dancing along" during the Macy's Thanksgiving Day Parade.
Final Thoughts
The holiday blues are real, and they can cause serious emotional turmoil in those who already experience mental health problems. Creating a holistic environment and following the tips in this article can go a long way in helping health and human services (HHS) training supervisors, social workers and program directors figure out a way to help staff members and those you serve overcome the holiday blues.
If nothing else, consider printing out and sharing the following infographic, "What Are the Holiday Blues," created by NAMI, in your organization. It provides a good starting point for opening a dialog on the holiday blues in your organization too.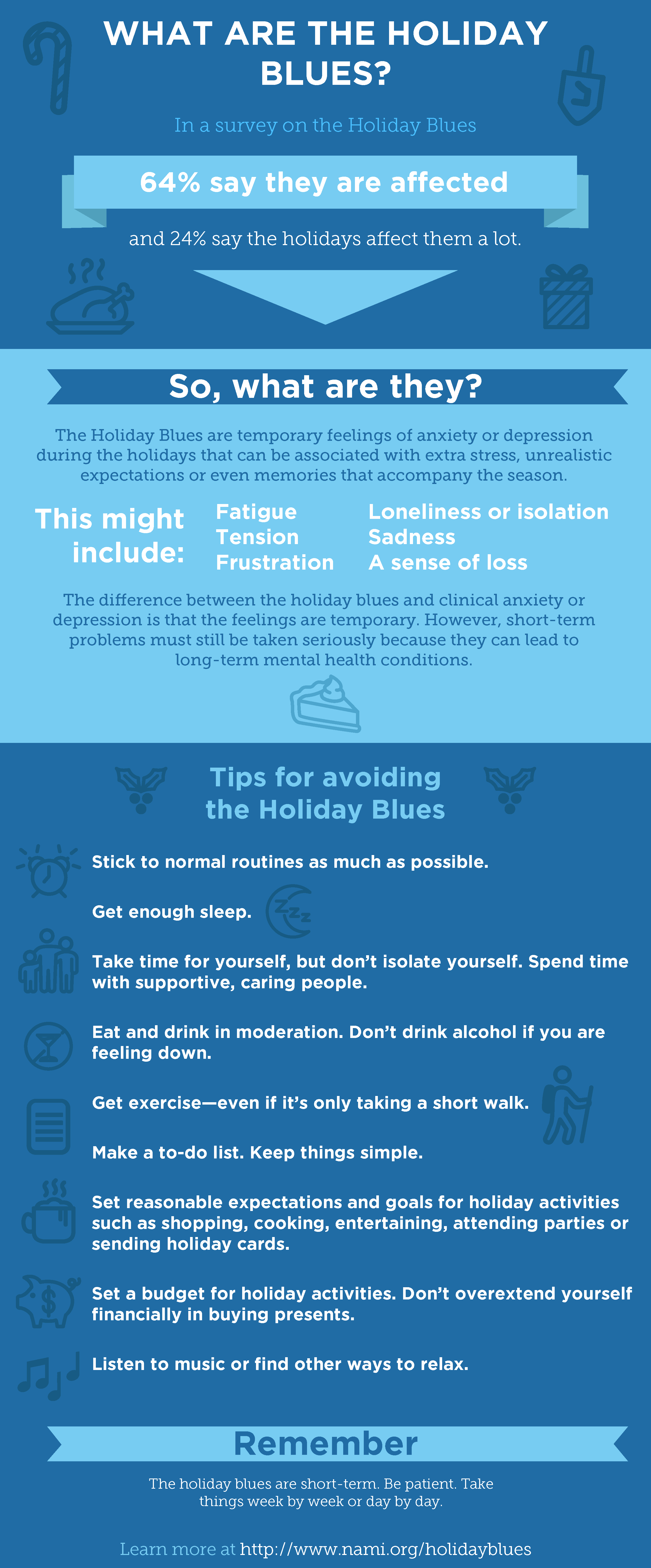 Posts By Topic
Show More
Show Less